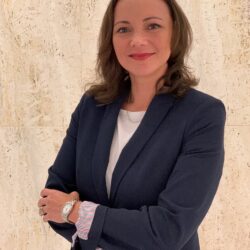 Diana Rivera
Senior Director of Development Lightsource bp
As Development Director at Lightsource bp, Diana Rivera leads greenfield development of utility-scale solar and storage projects across the U.S., and she contributes her development and operations expertise to streamline collaboration as the company scales to deploy 25 GW of solar power by 2025.
Diana started her career as an industrial engineer, manufacturing aircraft engines in GE's Operations Management Leadership Program and as a Lean Six Sigma Black Belt reducing supply chain costs for gas turbine power plants. While conducting an audit at a wind farm for GE, she realized she wanted to work in renewable energy.
Diana transitioned into wind energy development at EDP Renewables, and later joined Clean Line Energy Partners to unlock constrained wind with transmission. For five years, she co-led development of Grain Belt Express, a direct current transmission line to deliver 4 GW of wind power from Kansas to states farther east. She also developed utility-scale and behind-the-meter solar projects with Merit SI. Diana holds a BS cum laude in Operations Research & Industrial Engineering from Cornell University and an MBA from Harvard Business School.
<< Back